Banner raising ceremonies are always an emotional night. It's one last time to acknowledge the success your team had the previous season before officially putting everything behind you. Whether the team won their very first Stanley Cup, appeared in the Cup Finals as the most successful expansion team ever, or won their first ever President's Trophy, it is a night to celebrate success.
Unless you are the Nashville Predators.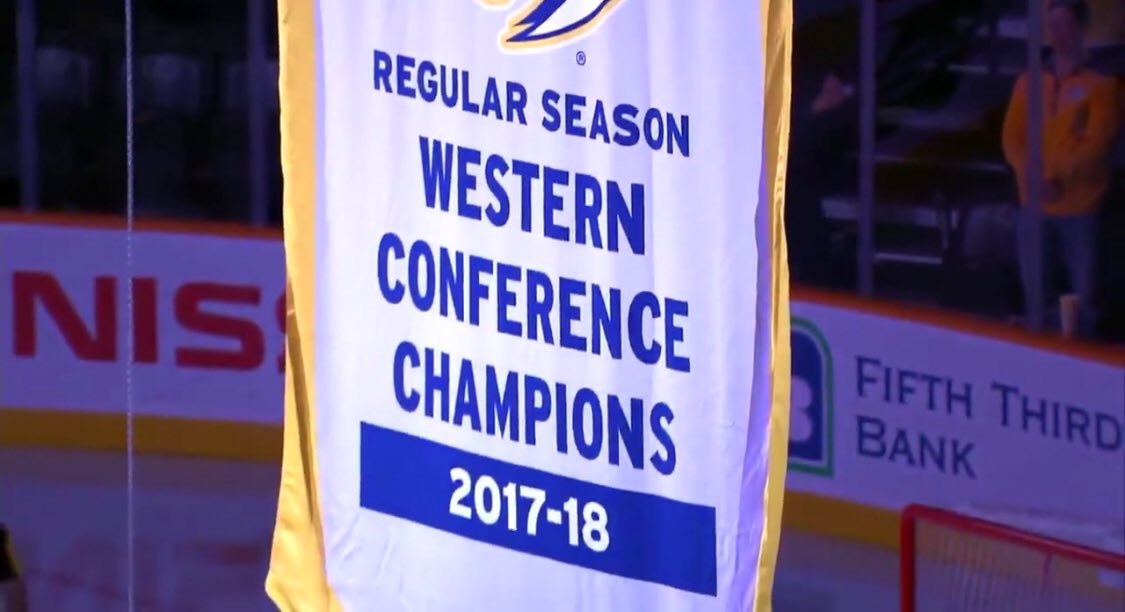 Last night the Predators went full on college basketball mode and raised a banner to the "Regular Season Western Conference Champions." Not the Stanley Cup Champions, because they didn't win the Stanley Cup. Not the Western Conference Champions, because they didn't win that either. But they already had the banners made for the President's Trophy and Central Division Champions and it would look pretty dumb raising just two banners, the whole symmetry would be thrown off! What would look dumber than non-symmetrical banners being raised?
I'll tell you what: raising a banner that essentially means nothing at all. You already got the President's Trophy banner right there. It stands to reason that if you had the most points in the whole league during the regular season, you probably had the most points in your conference as well. I'm no mathematician though, so feel free to double check my math.
I understand the Predators don't have a whole lot of experience with success during the regular or post season, but they should at least have an understanding of how twitter works. It's hard to believe no one saw this and said "Hey guys, there's a slight chance we get roasted on twitter because of this." This should have been a ceremony that no one outside of Tennessee even realized happened. Instead, it gave us all the opportunity to take part in one of my favorite hockey season activities: making fun of the Nashville Predators.